Our Story: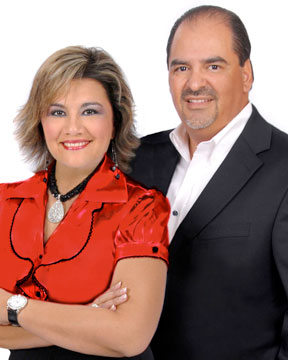 The GIDGET Group with REMAX Integrity was formed by Gidget and Armando Sauceda, in the spring of 2004. Our team was originally formed as a real estate investment company. We purchased, rehabbed, sold and rented distressed properties.
In the fall of 2005 we joined forces with National Broker "REMAX of Texas", as a Professional Real Estate Team servicing our community throughout Northwest Houston and The Woodlands. This partnership combined with our passion and commitment to our clients has allowed us to prosper in our real estate business. Today, our team is one of the fastest growing top producing teams in our market area. We have been awarded Top Producing Team and Top Listing Team from REMAX of Texas. Our business philosophy is simple: work hard, maintain a high professional and ethical standard, over communicate and always do the right thing.
Gidget and I are Native Houstonians. We have been blessed with three awesome children and a wonderful marriage of over 26 years. Gidget is crazy about me, because I remind her of that everyday. I am crazy about her, because she will hurt me if I do not mention that. Gidget and I were high school and college sweethearts and have known each other since grade school. We look forward to growing old together and traveling the world… some day.
Our oldest son David has joined our business as a Buyer's Agent. He is a college student with high hopes of taking over our business one day. He loves technology and has become our technology guru. He is part of the new facebook and twitter, "X Generation, and talks in techno language I am not sure is English. He continues to grow in this business and he challenges me everyday.
Our middle man child is Matthew "Mr. Baseball". He is 16 yrs old, 6' 1" 220 pounds and eats like a horse. He dreams of one day pitching in the major leagues. He loves to read and can talk you to death. He is an honor student in high school and I cannot wait to represent him on that first major league contract.
The baby of the family is Erica. Also know as "Miss. Drama Queen". Erica just turned 15 years old. She reminds us everyday that she is a teenager. Erica loves to shop, listen to her music, dance, hang out with friends, ooh did I mention she "loves to shop"! Erica dreams of being a fashion designer. You should see her dress up the family dog. We love our drama queen!  
Our family hobbies and activities are playing sports, outdoor fishing and hunting, crafts, watching movies at home, eating out at our favorite local restaurant with friends and family. We are a very competitive family, but constantly preach teamwork with our kids. One of Gidget's passions is making crafts and being creative with different design ideas, and always thinking outside the box.
Our mission is to always provide the most customer friendly professional experience for our clients in their pursuit of home ownership. With an outgoing and friendly personality, we simply enjoy helping people. Our work ethic and professionalism to our clients are our highest priority during and after their home buying and selling experience. This approach and attitude is what continues to provide ongoing repeat business from our existing client base. Our reputation of continued customer support long after the initial business transaction has provided continuous "Customers for Life - Referrals"!